Company information
We provide customized inner bead removal device for welded tube
Our team excels at designing and manufacturing IBC(Inner Bead Cutting) devices for each customer's tube welding equipment.
Regarding quality, we have been manufacturing special gauges since our establishment, and we are proud to provide reliable quality and satisfying products.
Company outline
Company name
Toshoseiko Co., Ltd
President
Masamitsu Fujiwara
Head office
1-23-3,Yahiro,Sumida-ku,Tokyo 131-0041 Japan
Kimitsu sales office
2-8-7,Sotominowa,Kimitsu-shi,Chiba 299-1173 Japan
Phone +81-439-54-2121 / Facsimile +81-439-54-2124
Sakura technology research center
Sakura-shi,Chiba
Capital
10,000,000yen
Foundation
1973
Main products examples
■Inner Bead Cutting Device

Our tube ID Scarfing Systems are reliable and easy to handle.

Made in Japan

■Bead Conditioner

You can check inner situation of tube by monitor, which we cannot usually see from outside.

■Inner Bead Cutting Device with Chopper

Removing remained inner bead and prevent specified length cutter damage.
■Inner Bead Pressing Device

Bead chips are not generated, it leads to improvement in safety and environmental hygiene and rationalization of work.

■Inner Bead Cutting, Pressing Device for off-line.

There is no need to scrap failed tube in which remains inner bead by using our off-line system.

■Cutting Tools

Basic shapes are key type and shell type. Both are available in throw-away type (tip exchange type).
Inner Bead Cutting Device and feature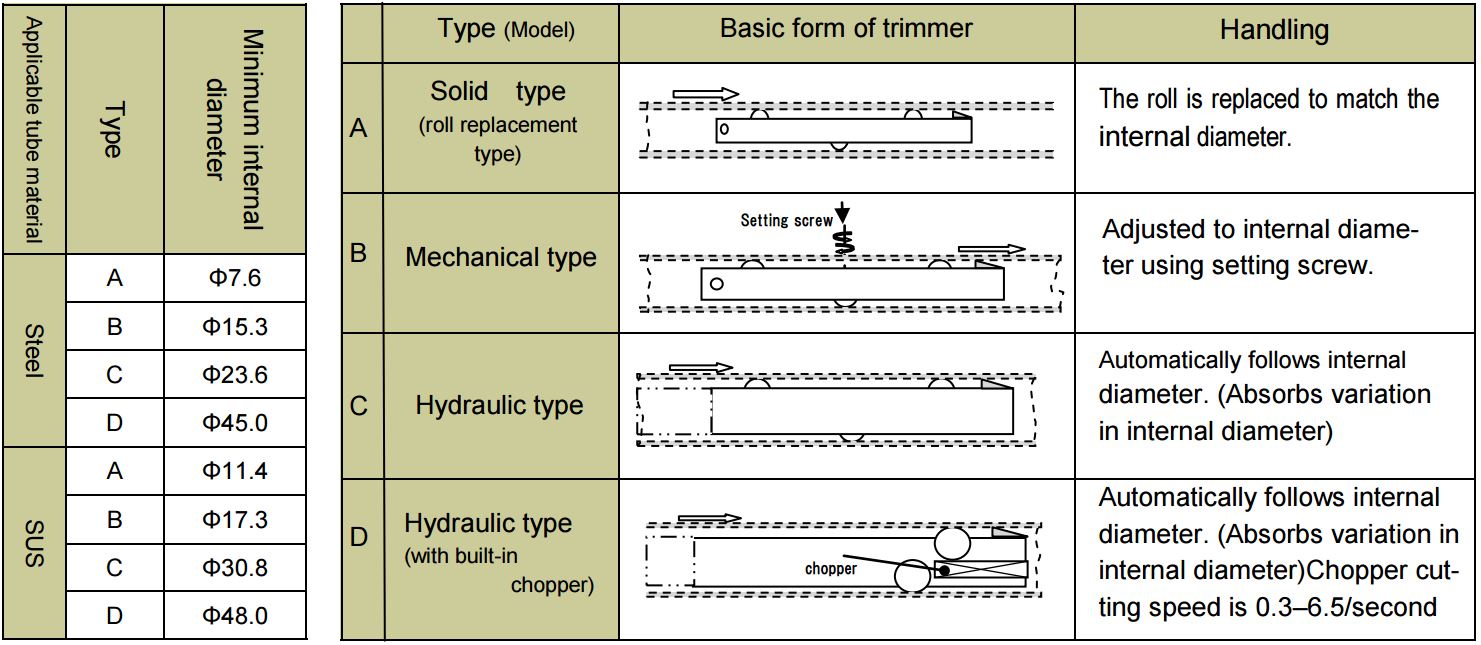 Products examples

We customize these products tailored to each customer's tube welding equipment, to their complete satisfaction.
For more information about inner bead removal device for welded tube. Please contact us by e-mail or phone.
Contacting
If you have any questions about our products and services, or would like to receive rough price estimates on your request, please feel free to contact us or fill out the inquiry form below.
We will reply soon and discuss details more about customized inner bead removal device for your welded tube.
Company name
Toshoseiko Co., Ltd
Kimitsu sales office
2-8-7,Sotominowa,Kimitsu-shi,Chiba 299-1173 Japan
Phone +81-439-54-2121 / Facsimile +81-439-54-2124
Office hours
Monday-Friday 8AM-5PM JST
Inquiry Form
Download