Bead Conditioner
Bead conditioner controls inner bead cutting overload. If overload occurs, it automatically stops cutting operation and reduces cutting device damage and material loss!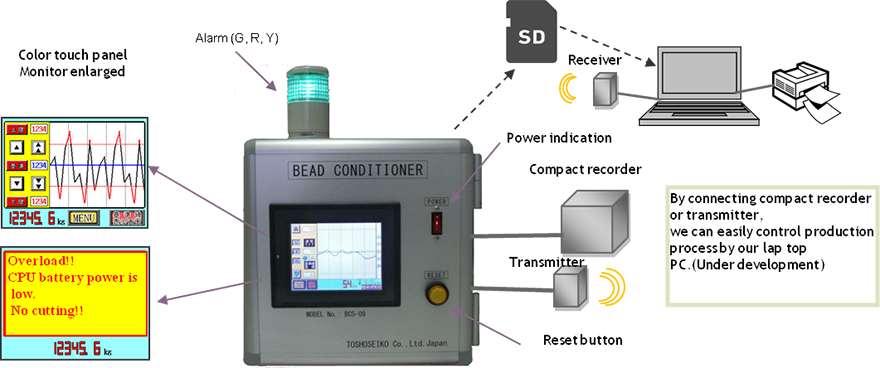 Video Description
The effect of Bead Conditioner
Graph indicates the amount of defective tubes during operating one month (12h/day).  (Example of A company)

Functions of Bead Conditioner
We can check current cutting overload degree by numbers and graph.
During pipe welding, if the amount of bead by bite cutting decreases or over exceeds, its sensor detects and alarms to its monitor.
If the numbers exceeds setting range or detects no overload, it automatically stops mill operation in order to get rid of cutting device damage and material loss (We can make it not to stop by changing setting range). .
We can prevent the situation beforehand such as tearing the cutting device off by stuffed cutting powder occurred by bite fragmentation or damage.
We can record its best situation(numbers) beforehand and adjust to come close to the point by adjusting voltage or roll position.
We can greatly reduce defective pipe ratio, because we can check cutting situation on the monitor.
We can prevent the situation under which we continue welding without noticing bite abrasion or chipping and consequently make a lot of defective or low quality pipes.